Bilbao Airport

Bilbao airport serves not just the city of the same name but the majority of the Basque region and northern Spain. It should be noted that for goods and freight the airport of Vitoria is used so keeping Bilbao free of cargo and a pleasant experience for passengers.
As an important city in Spains industrial north the airport in Bilbao has a good selection of direct flights to international and domestic destinations with major flag carriers of European countries offering business links. Indeed if the passenger is travelling from the USA it is possible to make one change in Frankfurt of Paris and fly direct to Bilbao.
Finally for the tourist visitor to Spain intending to "start at the top" and work their way down through Spain one would do well to begin in Bilbao.
Transport to and from
As expected of a Spanish regional airport expected to provide fast links to the business community the airport has excellent road and public transport infrastructure serving the whole of the North east of Spain incluiding the Pais Vasco provinces of Gipuzcoa, Vizcaya and Alaba.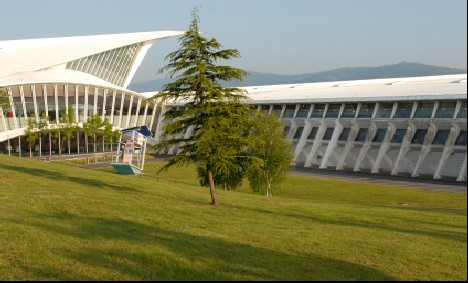 Airlines and destinations
As well as enjoying a healthy number of frequent flights to varied destination the airport in Bilbao also has a unique terminal design intended to mark the difference between airports in passengers minds.
Domestic airlines and destinations
Domestic flights to multiple destinations throughout Spain are operated many times daily offering passengers a number of convenient timings to choose from.
A Coruña flights by Air Nostrum / Iberia - Regional
Alicante flights by Air Nostrum / Iberia - Regional
Barcelona flights by Iberia, Spanair and Vueling - Low cost and Legacy
Fuertaventura flights by Air Europa - Legacy
Gran Canaria flights by Air Europa and Spanair - Low cost and Legacy
Lanzarote flights by Air Europa and Spanair - Low cost and Legacy
Madrid flights by Iberia, Spanair and Quantum Air - Mix of low cost and legacy
Malaga flights by Vueling and Quantum Air - Low cost
Palma de Mallorca flights by Air Berlin, Air Europa and Quantum Air - Low cost
Santiago de Compostela flights by Air Nostrum / Iberia - Regional
Sevilla, Seville flights by Air Nostrum, Vueling and Quantum Air - Regional and low cost
Tenerife North flights by Air Europa - Legacy
Tenerife South flights by Air Europa and Spanair - Legacy and low cost
Valencia flights by Air Nostrum / Iberia - Regional
Vigo flights by Air Nostrum / Iberia - Regional
International flights and destinations
Connections from Bilbao airport to Europes international hubs:
Brussels flights by Brussels Airlines
Dusseldorf flights by Lufthansa
Frankfurt flights by Lufthansa
Lisbon flights by TAP air Portugal
London Heathrow and Stansted flights by Easyjet and Vueling
Munich flights by Lufthansa
Paris Charles de Gaulle flights by Air France
Stuttgart flights by Lufthansa
Return from Bilbao airport to Airports in Spain