Spanish Life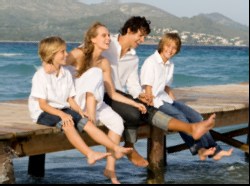 Modern day Spanish life can be explained in just one philosophy:
Love for Life
Of course for the average visitor to Spain this is lost as the only interaction with tradition and culture in Spain is, in 90% of cases, restricted to the waiter and hotel recepcionist!
For those interested in digging a little deeper into what makes Spain truly unique, Spanish traditions and even understanding the Spanish culture then the following pages will assist you greatly!
Note: This section of the site contains both in house articles but also links to other sites whose copy is something that will enrich the visitors mind or explains a local fiesta or tradition in distinct parts of Spain!
Start discovering Spanish life!
Its always nice to concentrate on the "good" things in a culture and we are no different! Thankfully Spain and its traditions offer a wealth of opportunities to share positive and uplifting details of its culture!
Christmas in Spain

In Catholic Spain christmas is perhaps the most celebrated of all the holidays and slightly more upbeat than Easter. The following is an example of a typical christmas in Spain...>

Easter and Malaga

Malaga is in Andalucia on Spains southern coast and perhaps better known for its beaches and nightlife but every year the town is the center of the traditional "Semana Santa" or Easter week celebrations. This and other aspects of Spanish life are explained very elequently and in great detail by John MacDonald (El Sordo) Travel and feature writer, photographer ...>

Santander to Santillana

Guest Author John Hutchison shares his passion for driving in northern Spain...>
For other great insights into Spanish life discover the many Unique fiestas in Spain...>