Driving in Spain

Driving in Spain by car often provides visiting tourists with an unforgettable experience for many reasons, not least the fact that the country is in possession of endless kilometres of road which provides travellers with some truly stunning scenery, particularly on coastal or mountainous routes. Car users will often find that Spain's road network is modern and extremely easy to use.
In total, Spains road infrastructure clocks in at more than 310,000km, with more than 8000km of this consisting of motorways, and with ongoing plans to extend Spain's motorway network continuously.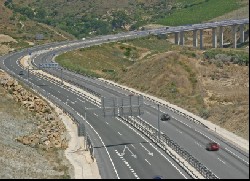 However, the continued improvement of Spanish roads comes at a price, one that is passed on to its users through seemingly expensive motorway tolls along main arterial routes. The cost of travelling on these roads is a big deterrent to regular users of Spanish roads, resulting in large traffic jams on adjoining routes caused by those who prefer not to pay to drive.
If you are relatively inexperienced in using Spain's road network however, it is advised you stick to the main routes, as secondary roads in small towns and in the countryside tend to be in poor condition due to lack of maintenance and should generally be avoided as a tourist.
When driving in a town or city, it is important to have heightened awareness. Drivers have often called driving in major cities and towns in Spain "hell", with it often commonplace for Spanish drivers to be more aggressive (especially when it is busy), with traffic jams common in peak season as well as inexperienced youngsters flying around on motorbikes and mopeds.
In the past five years, Spanish authorities have done much to make the road network in Spain more navigable for both natives and tourists alike, demonstrated most in the road sign system.
In the past, many towns were still signposted using old names not in use anymore which has now been changed, When driving in Spain a top tip for the routes into major cities is that their roads are preceded by corresponding letters to indicate the city you are heading to. Eg: M=Madrid, B=Barcelona, MA=Malaga etc. This is followed by the digits for the particular route you are using.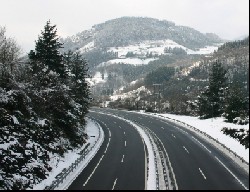 This signage is particularly useful to know if heading to one of the major cities when arriving at one of the entry points to the country such as the major airports of Alicante, Madrid, Malaga, Murcua, Barcelona, Jerez de la Frontera, Seville, Bilbao, Valencia, Viga etc or the ferry ports at Bilbao, Santander, Barcelona or Valencia where most visitors will usually arrange their car hire.
The Basics
A quick guide to the basics of driving in Spain:
Speeds and distances are in kilometres
Driving is on the right-hand side of the road
Legal driving age is 18
It is illegal to undertake on dual carriageways
Give way to traffic on the left
Headlights must be used in tunnels
Seat belts are compulsory
Children under 12 cannot travel in the front of the car
Children under 3 must travel using a child seat
Mobile phones can only be used with a wireless Bluetooth or car kit connection.
The Unique
As over 90% of Spains road network is found on the mainland Peninsula people tend to forget that the Balearic and Canary Islands also have their own roads. However due to a combination of climatic conditions, regional government budgets and unique landscapes one can't just apply the mainland driving logic!
For example Tenerife's roads have their own idiosincricies and one is advised to understand them before hiring a car on the island. As always, we provide a special guide to driving in Tenerife.
About Spanish motorways
Driving in Spain presents a few peculiarities when considering motorways or highways. Not least due to the "peajes" or toll roads:
Motorways are indicated by blue or green signs with the universal motorway symbol.
Most are toll roads; this is signified by 'autopistas de peajes'.
The maximum speed limit permitted on Spanish motorways is 120km/ph (74mph).
Each motorway exit (salidas) is numbered.
Orange emergency telephones are found on average, every 5km on motorways.
All motorways are in possession of service stations/restaurants/resting areas, which are signified by signposts along the way.
and peculiar just to Spanish toll roads:
A fee is payable for using most motorways at toll booths (autopistas de peajes). Each has a unique pricing scheme, with tolls usually more expensive in summer months.
A ticket is taken at the booth at the start of your usage of a motorway, with the fee calculated at another toll booth on exit.
Payment can be made by cash or by credit and debit card.
If using the motorway network regularly, a 'tarjeta de la autopista' season pass can be bought, which saves you money and offers you a priority lane at toll booths.
Spanish roads in general
Three very important points to consider for driving on standard Spanish roads:
Speed limits vary and are signified by speed limit signs. The maximum speed is the same as motorways on dual-carriageways (110km/ph prior to 7th March 2011 was 120km/ph).
Main roads are usually busier than motorways during peak hours due to roads user's reluctance to pay toll charges.
Single-lane stretches of main road usually carry a speed limit of between 70-80km/ph.
Return from Driving in Spain to Travelling in Spain
Unique Spain > Travelling in Spain > Driving in Spain