Menorca Airport

Mahon or MAH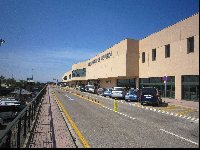 Menorca airport, also known as Mahon airport or by its 3 letter code MAH is the only airport on the island of Menorca.
The recently remodelled terminal is a modern glass and brick facility with a light and airy atmosphere as well as a number of airbridges or "fingers" which mean that on the whole the passenger experience is very good.
Perhaps the only downside to the airport itself is the fact that it only has one runway and this coupled with sharing the airspace with nearby Palma de Mallorca means delays can accrue on the busiest weekends of the year.
Our free guide to Menorca....>
Transport to and from
Whilst the majority of visitors to Menorca airport will be part of package tours from their home countries and as such have the "transfer included" there is still public transport available from Mahon airport to the important cities / towns of Mao and Ciutadella.
By road:Just 200meters after leaving Mahon airport you are on Menorcas main road... whilst we say main road the Me-1 is basically a standard one lane road and nothing more. Turn right for Mahon city and left for just about everywhere else on the island!
By Taxi: Taxis depart from directly in front of the arrivals hall and baggae reclaim with a couple of private hire firms maintaining desks within the baggage reclaim hall and terminal itself. As traffic is not too intense at this island Airport a taxi can be had almost instantaneously at any hour of the day.
By Bus: On the island of Menorca Spain the majority of bus routes are operated by the company M Torres. Through their website it is possible to access the timetables and fares for all public bus routes from Menorca Airport the - Torres website
Airlines and destinations
From Menorca there is a steady influx of tourists during the summer with all inclusive charter packages however the islands popularity with second home owners has seen a number of international destinations maintain year round flights from Menorca.
Domestic airlines and destinations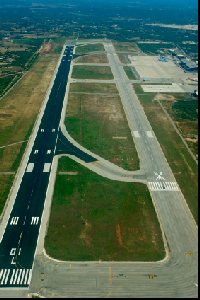 Spanish flights from Menorca operated by both the national carrier and a number of low cost airlines:
Alicante
Asturias (Gijon)
Barcelona
Bilbao
Ibiza
Madrid
Palma de Mallorca
Valencia
Zaragoza
International flights and destinations
From the airport in Menorca the UK features as the number one destination with Germany close behind:
Basle Mulhouse
Belfast
Berlin
Birmingham
Bristol
Brussels
Cardiff
Dusseldorf
Edinbrough
Frankfurt
Hamburg
Hannover
Koln / Bonn
Leeds Bradford
Liverpool
London Gatwick and Luton
Manchester
Milan
Munich
Newcastle
Nottingham
Pariss
Prague
Rome
Stuttgart
Zurich
Return from Menorca airport to Airports in Spain