Menorca Beaches
Menorca beaches are known as some of the most family friendly and picturesque in the mediteranean!
Shallow gently shelving beaches give way to extensive marine life that even the smallest of visitors can enjoy. But perhaps the greatest charm is the sheer number of different Menorcan beaches to visit!
Start making your plans with our free guides to each beach and what you can expect to find in the way of facilities, car parking and access. Everything you need to maximise your time on the beach and not stuck in the car trying to figure out where to go!
Generally Speaking
A couple of quick points that the visitor needs to bear in mind when choosing where to visit!
Northern beaches tend to be formed by large sandy bays with rocky headlands at either end. As such they are known as Platjes

Southern beaches are primarily narrow coves erroded from the sandstone and leaving behind limestone cliffs. There is extensive marinelife in many of these Calas

Car parking can sometimes be a long walk from the beach itself. Where this is the case we mention it in the guides.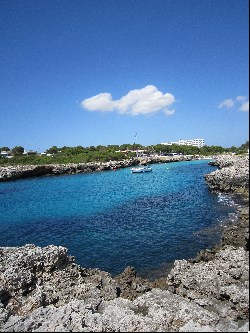 Guides to Menorcas beaches
Cala Blanca (Eastern cove)
Cala Macarella (Southern cove)
Cala Turqueta (Southern Cove)
CAUTION
Whilst not common for Menorcas beaches jellyfish can sometimes be found after a "big storm". We recomend that you invest in an anti-sting spray or gel which, if not purchased before your trip to Menorca, can be had in the local supermarkets for around 7-9€.
Considering the remoteness of some of Menorcas beaches its a cheap investment!
Its not all Menorca beaches, discover the islands other offerings....> Check out the indespensible guide to travelling in Spain...>