Segovia Castle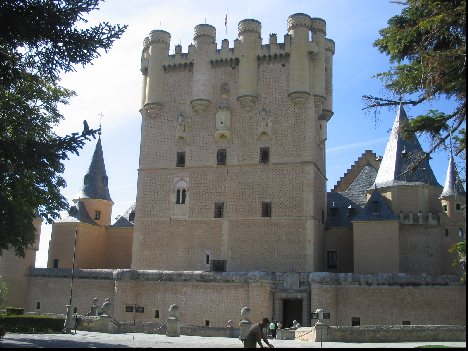 The "El Alcazar de Segovia" or Segovia castle is a prominent and important landmark in Segovia and in many battles has been the last refuge of the people of the city. For a building that has seen off invaders and revolts alike its architectural aspect is one of beauty and many locals loving refer to it as the inspiration of the Disney castle (not that Walt Disney ever knew of the existence of El Alcazar when drawing up Snow Whites castle).
For visitors to Segovia the castle offers panoramic views accross the city, the plains of Castilla y Leon and the mountains of the Sierra de Guadarama. On the inside El Alcazar de Segovia contains some splendid examples of middle ages armour and an insight into how life inside the castle was during times of royal visits throughout the ages.
Visitors to Segovia intending to visit the castle should allow between 1 and 2 hours to do so.
Brief history:
Without wanting to "give the game away" its safe to say that Segovia castle was built in the 12th century and has been extensively modified, rebuilt and altered by a succesion of Spanish kings and queens. Presently it serves as a popular tourist attraction and also home to a extensive series of military records (not on public display).
The Alcazar de Segovia has been a popular retreat for Spanish kings and queens down the ages although far more as a ceremonial residence than as a military stronghold. The natural defences of hilltop Segovia contributed enough in that respect. For this reason the castle is one of Spains most ornate when viewed from the outside and remarkably detailed on the interior.
Location:
Segovias castle is perched atop a cliff face at the far end of the historic old town Segovia overlooking two rivers that merge at the cliffs base. With its situation being such it is possible to drive through the old town and arrive at the castle simply by following the signs marked "El Alcazar".
Whilst driving is the most convenient way for time pressed tourists there is almost no parking available close to the castle and as such unless travelling with registered disabled passengers its advisable to park in the public parking at the base of the aqueduct and walk through the city to the castle. The journey is no more than 20 minutes if one doesn't stop along the way to view the rest of Segovias attractions!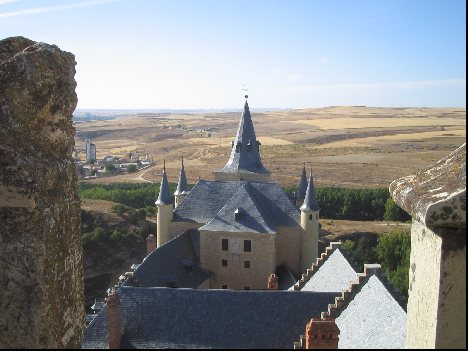 Admission costs:
Enterance to the castle for adults costs a very reasonable €4 with an additional €1 to climb the tower. The third Tuesday of each month entrance is free to EU citizens.
Opening Hours:
Opening hours of Segovias Castle conform to those of Daylight savings and are divided simply into Summer and Winmter hours:
Summer 1000 - 1900
Winter 1000 - 1800
Note: In common with many Spanish attractions there are restrictions on photography and cameras can only be used from the battlements.
Return from Segovia Castle to Segovia Spain
Unique Spain > Segovia Spain > Segovia Castle