Vueling Airlines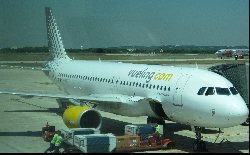 Vueling airlines were initally formed as a low cost competitor to Spains Iberia airlines taking advantage of the flag carriers percieved lack of investment in Barcelona. The airline was modelled on Jetblue of the USA and indeed shares some of the same investment partners.
The quick growth into the dominant carrier position at Barcelona airport has come about due more to the operations of other airlines than that of Vueling itself. At its birth Vueling airlines was intended to provide low cost competition to national carrier Iberia. Iberia responded by lauching their own Low cost airline in Barcelona called "Click" and withdrawing mainline flights. 2 years later Vueling and Click merged and the new company owned by Iberia and the owners of its regional airline, Air Nostrum. This excercise has worked out to the benefit of Iberia as they have effectively cut routes and jobs by the use of a lower cost substitute whilst maintaining access to the profits and no loss of market share.
From one base in Barcelona Vueling now serves a wide variety of Spanish cities with hub operations established in six of the major cities (bases in bold):
A Coruña
Alicante
Asturias
Barcelona
Bilbao
Granada
Gran Canaria
Ibiza
Jerez
Lleida
Madrid
Malaga
Mallorca
Menorca
Santiago
Sevilla
Tenerife
Vigo
Note that some of Vuelings Spanish domestic flights are not daily but instead 3 or 4 times weekly.
Inflight experience
In common with
Low cost airlines
worldwide with Vueling airlines the moment you enter their website everything is an add on cost. From maintaining the price for 24hrs at 2€ to reserving greater leg room or a hotel in Spain Vueling will charge you for every little extra. This is also indicative of the inflight service where a drink or snack will cost, and the prices aren't those of a normal shop! For travellers in Spain who have no need of extra services or don't mind the prices then the Vueling onboard experience is comfortable in modern, clean and colourful A320 airbus aircraft.
Tips and pointers
Useful pointers for choosing to travel or book flights with Vueling airlines:
If you have flexibility within your travel plans the Vueling website offers a tool to compare fares for a whole month.
Combining a flight in one direction with Vueling and the return with another Spanish airline often works out cheaper than a return fare.
The cheap Vueling flights are available the further in advance you book
Vueling offers a number of intra europen flights and as such can work out cheaper than booking add on flights to an inter continental ticket.
Be aware that the Hotel, travel insurance and Car rental programs that Vueling partners with offer inflated prices and lower service levels compared to those available elsewhere on the internet.
Vueling is owned in part by national airline Iberia and as such is frequently adding new routes to take advantage of the lower cost base. If outsourcing of jobs to sibling companies is something that goes against your principals be aware that this is the reason for Vuelings existence.
The Vueling flight safety record is comparable to any major US or European airline and is subject to the same standards and inspections.
Taking food and drink of your own onboard the aircraft is far cheaper than buying inflight although one must remember that liquids above 100ml cannot be taken through Spanish airport security.
Rewards program
The visitor to Spain flying with Vueling airlines will not be able to accrue milage or points for any other airline frequent flyer program. The airline does have its own scheme however this requires an average of ten flights in order to qualify for one Vueling free flight. Unless you are planning to emigrate to Spain then the milage / points scheme should not be a determing factor in flying with Vueling.
Vueling airlines is not Spains only low cost airline....> Other transport methods in Spain...>