Menorca Attractions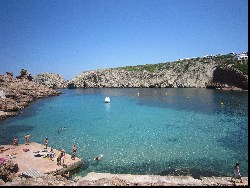 Our top ten Menorca attractions not to be missed during your visit to the island!
This guide prides itself on providing unique and honest visitor information..
..and this section is where we add our interpretation to the respective merits of those supposed "Menorca tourist attractions" that less scrupulous guides simply try to sell the visitor!
Enough waffle! Heres what the visitor to Menorca cannot afford to miss!
The top ten
Cala Morell
Where in the world is it possible to enjoy a warm watered, crystal clear sandy bay teaming with fish... being overlooked by in excess of 100 previously inhabited caves and prehistoric burial chambers? That beach walk will turn up more than just shells! All completely free!

Navette de Tudons
This is just a collection of stones stacked upon one another... That is until you walk inside and see precisely how neolithic man lived on the island of Menorca. A bargain at just 2€! Its called a "navette" in reference to its appearence as an upside down frigate (Frech frigate = Navette).

Lunch in Fornells
For Seafood lovers the traditional Menorcan dish of "Caldereta de Langosta" (lobster stew) in one of the waterfront restraunts in this sleepy quiet village on Menorcas northern coast blends fantastic flavours with idyllic relxing surrounds! If the 60€ dish (between two) streches the budget then the 15€ (per person) "seafood stew" is an almost exact substitute. Fornells guide...>
Sunset Cuevas de Xoroi
Sit back, adjust the seat a little, plump the cushion and look out over the mediteranean sunset with a drink in hand from inside a cliff cave!

There are some places in the world where nature conspires to produce geographical forms that blend with the human mind. This is one of those places!

Entrance to this Mencora attraction is 10€ with the 1st drink included.

Ciutadella old quarter
A collection of narrow streets, alcoves and covered terraces one loses all sense of time in the streets of old town Ciutadella.

This is one of those places where no matter who you are strolling with you see the same thing in different ways or interpret it differently.

Local delicacies and ample terrace cafes and bar mean you're never short of a place to put your feet up!Ciutadella guide...>

Night time tour of Mahon fort
Drift back into the time when every European nation competed for domination of the Mediteranean and Mahons anchorage was greatly prized!

Exploring the fort at night adds a different and somewhat "real" dimension to Mahons contribution to the top Menorca attractions. The nightly firing of 18th century bronze cannons will certainly bring you back to reality! July August and Sept only, approx 20€ per person in 2010.

Menorcas beaches
Narrow country lanes give way to steep twisting unpaved roads traversing woodlands before opening out onto picture postcard beaches.

With so many differing yet similar coves to explore every day can be spent on a different beach! From the resorts to those off the beaten track the gently sloping sand of Menorcas beaches is ideal for families. Of course apart from the odd car parking fee 90% of these natural Menorca attractions are completly free!

Cami de chavalles
A modern and well adapted bridleway encompasing Menorcas coastline originating from the original sentries routes of the 17th, 18th and 19th centuries.

Suitable in all areas for walking and in some parts for bikes or horses the route is clearly signposted and information points explain gradients and estimated walking times. The reward? Apart from feeling a little fitter you can feel like a King as you pause for breath on your own private beach!

Menorca Zoo
Its strange to consider but the smallish zoo (when compared to capital city zoos) offers a rare chance for true interaction between children and animals.

The less formal nature and openess of the enclosures coupled with the comparitively cheap entrance cost makes this a great place for children.

Cala Macarella
The worst of Menorca attractions this once idyllic picture postcard famous beach has had its attraction ruined by a combination of its fame and local landowners greed.

Collapsing under the weight of tourists the white sand is barely seen beneath the towells of the multitude, the cove now resembles Benidorm rather than the natural beauty that Menorca is famous for. Car parking is 300meters from the beach and a scandelous €5 per car for what is a field. One to avoid!
Discover the many Menorca attractions in detail...> Practical travel information for Mahon airport...>