Menorca Zoo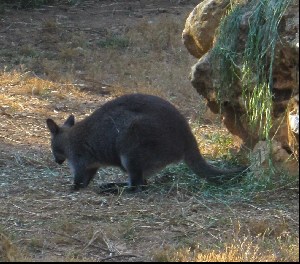 The Menorca Zoo is an oft overlooked attraction on the island that offers a unique interactive experience with a wide variety of animals not often seen so "close up".
Amongst Zoo's in Spain the one in Menorca is Unique in its location, layout and above all interactive experience!
How many Zoo's can claim to have a perfectly preserved genuine dwelling from prehistoric man in the middle of their grounds!
On offer in Menorca Zoo
The zoo is arranged in a number of zones or climates ranging from a wetland experience to a replica of the Australian outback complete with
Kangaroos and Emus!
This is complemented by enclosures featuring
reptiles,
snakes,
indigenous animals from Menorca,
an Aviary,
free roaming animals
and tree dwelling monkeys!
Whilst larger animals are noticable by their abscence, namely tigers, giraffes and elephants, the fact that most animals roam around the park or that the visitor can enter the enclosures makes for a very interesting visit.
Younger children especially
thrive on having exotic animals passing by at their height!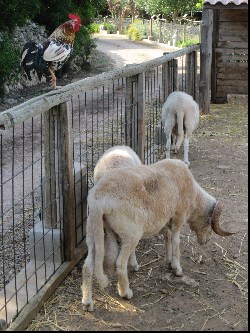 Additional facilities
Although rather "eclectic" the Zoo in Menorca also provides a series of facilities that one might not traditionally expect to find. In 2010 the following were on offer:
A museum of insects and sand samples from the island
A small museum of various Antiquities from Menorca
A large childrens play park
Shaded picnic tables (you can bring your own food)
A bar and resturant
and the obligatory Menorcan souvenir shop!
Location & Prices
Location:
Directions to Menorca Zoo couldn't be easier as it is centrally located just off the Me-1 main highway on the island approximately 2kms from the
village of Alaior
. The public bus routes pass outside and the stop itself is made in front of the entrance. Services are regular (every 20 minutes or so) between 0800 and 2100 after which time buses still operate but less frequently. There is free parking for those who have a hire car.
Pricing 2010
Tickets for the Zoo in Menorca are relatively inexpensive when compared to other zoological facilities in Spain at just:
Adults 8€
Children 4€
Infants FREE
Payment by credit card is possible.
Opening times 2010
Daily from 1000 to 2000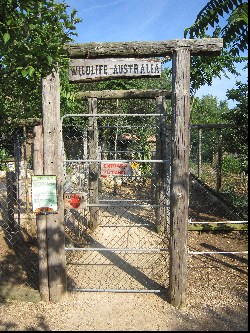 Tips for your visit
To ensure that its an unforgetable visit to Menorcas Zoo its worthwile keeping the following in mind:
In summer (Jun, Jul, Aug) visit in the morning, up to 1300, or the evening, after 1700, therefore avoiding the heat of the day
Wear flat soled or practical shoes as the paths are made suitable for buggys / prams but not 100% flat
Take a few 1€ coins to be able to feed the goats... whilst inside the enclosure!
Souvenirs cost the same in the Zoo shop as tourist shops on the island
The Zoo offers the opportunity to sponsor animals as a unique souvenir
If travelling by car be sure to park under the shade of the trees
Some of the free publications available at the airport include discount cupons
The entire facility can be visited in 2 hours at a fast pace or 4 hours at a leisurly stroll
The zoo maintains its own website
here
which offers additional photos and information,
in Catala!
Menorca Zoo piqued your curiosity to all things Menorquin? ....> Discover Menorca....>